Hello everyone! How was your day? I hope everyday will be a cheerful day to all of you!
Last time, we have explored Top 8 most incredible beaches of Halong Bay (Part 1 – Part 2). So what we have this time? This time I will bring you another post about our unreal-beauty of Halong Bay.
Halong Bay has a huge amount of beautiful islands and islets, we can't figure them out in just one post. Therefore, I come up with this wishlist of 8 MUST-VISIT ISLANDS OF HALONG BAY. I hope after reading this list you will get helpful information for your next trip to Halong!
Let's get started!
TI TOP ISLAND
Let's begin with Ti Top Island. The name Ti Top was named after a Soviet Union Astronaut Hero –  Ghermann Titov when he came here for a visit. President Ho Chi Minh named this place – Ti Top Island to perpetuate the remembrance of the special visit.
Ti Top island is 14 km east from Bai Chay Wharf which is the central of Halong Bay. It is the most touristic place for all international and domestic tourists. Ti Top island is famous for breathtaking landscapes and panorama view. You can visit many beautiful islets such as Ga Choi islet, Dinh Huong islet or Cho Da islet.
Moreover, on the highest spot of Ti Top Island, it's insanely spectacular with the panorama view of Halong Bay. Ti Top beach is incredible with the crescent shape and the pristine beauty. The water here is so clear blue that you can see the small rocks underneath. You can enjoy the beach while swimming or kayaking around with your friends. Another good thing of Ti Top island is the seafood here is really fresh and tasty, you can have the food cooked by the locals for the best traditional taste!
If you are interested in Ti Top Island, you can check these tours below for more information:
SOI SIM ISLAND
Soi Sim Island is 400m away from Ti Top Island and it's very beautiful too. The island has been existed about hundred of million years ago and surrounded by the sea then there are endemic plants, according to researchers. What makes Soi Sim island is more special than other islands is its primitive forest with a lot of ancient plants, diversity of flora and fauna.
Soi Sim island is surrounded by mountains so you could climb to the top and enjoy the breathtaking overview of Halong Bay. The water of Soi Sim beach is just super clean and clear-cut emerald water which is super attractive. It is so clear that you can even see schools of fish under the water. This beach is also well-known for its green color which made by the color of trees and plants here.
There are many activities that you could have on the beach: swimming, snorkeling diving or kayaking around the Bay. Moreover, you can also enjoy Halong Bay panorama from the highest peak of this island. This is the wonderful place for photo walk and others activities.
If you want to take a short trip to Soi Sim beach, you can check these tours below:
TUAN CHAU ISLAND
This is the only island in Halong Bay that locals are living there. The beauty of Tuan Chau Island is proved by thousands of tourists come here every year. Your eyes are going to be blinded by the luxury of everything on this island.
With a lot of international standard hotels, private guest houses, luxury resorts you don't have to worry about the quality of service here. If you are hungry, you can choose between dozens of food courts or ancient royal architecture restaurants on the streets.
Tuan Chau Beach is an artificial beach and away from Halong port about 8km so it's pretty near downtown. If you want some entertaining activities, Tuan Chau Beach has tons of wonderful activities for you: swimming, Jet Ski, kayaking, canoe parachute or fishing. Tuan Chau beach is not a large beach but you can consider this one to be of the beach that has the best service!
If you are interested in Tuan Chau beach, you can check these tours below for more information:
CO TO ISLAND
"An island escape from the Earth" – is all bout Co to Island.
If Tuan Chau island is famous for its luxury, you will be surprised by the wild beauty of Co To Island. The water is super blue and pure, moreover, you can also explore the stunning coral reefs under the cool water.  CO TO beach is not very crowded so that would be a wonderful chance to relax on the white sand and admire the beautiful landscape here.
The taste of seafood on Co To island is so fresh that you can even feel the whole ocean is in your mouth. If you need some interesting activities, Co To Park is where you can have some fun with water-sport activities. If you want some romantic moments here, you can also hire electric vehicle to drive along the streets and watch the sunset. With those reasons above, Co To Island is the best choice for a relaxing trip.
BO HON ISLAND
Bo Hon Island has been a touristy spot for both domestic and international tourists recent years. The reason why it got so much love is that there are a lot of interesting caves on Bo Hon island. We have Sung Sot Cave, Luon Cave, Trinh Nu Cave, etc. Furthermore, there are also many high mountains and dangerous cliff edges located here.
Bo Hon beach is also a famous beach that you can check out. With a long white sandbank and clear blue water, Bo Hon beach is a perfect place for swimming, kayaking and sunbathing. Moreover, due to the amount of high mountains here, you can also climb and trekking along the road.
Seafood and other food are great if you want to try something with traditional taste!
You can check these links below if you want to visit Bo Hon island and Sung Sot Cave:
QUAN LAN ISLAND
In the early of XII century, Quan Lan island used to be the first trading harbor of Vietnam. With the area is about 11 km², it is not a large island but it got the pristine beauty that can surprise you. Come to Quan Lan island, you can visit three beautiful beaches: Son Hao beach, Quan Lan beach and Minh Chau beach. If you are religious, you can visit Linh Quan Tu and Nghe Quan Lan, these two places are very popular to a lot of domestic tourists.
Quan Lan island has many mountains on the the East which has protected the local people for thousand years from tornadoes and strong waves from the ocean. Not only this island has unique landscapes but also has tasty seafood like big shrimps, worm tails and sea cucumber.
A best place for swimming, kayaking and being lazy in airy atmosphere!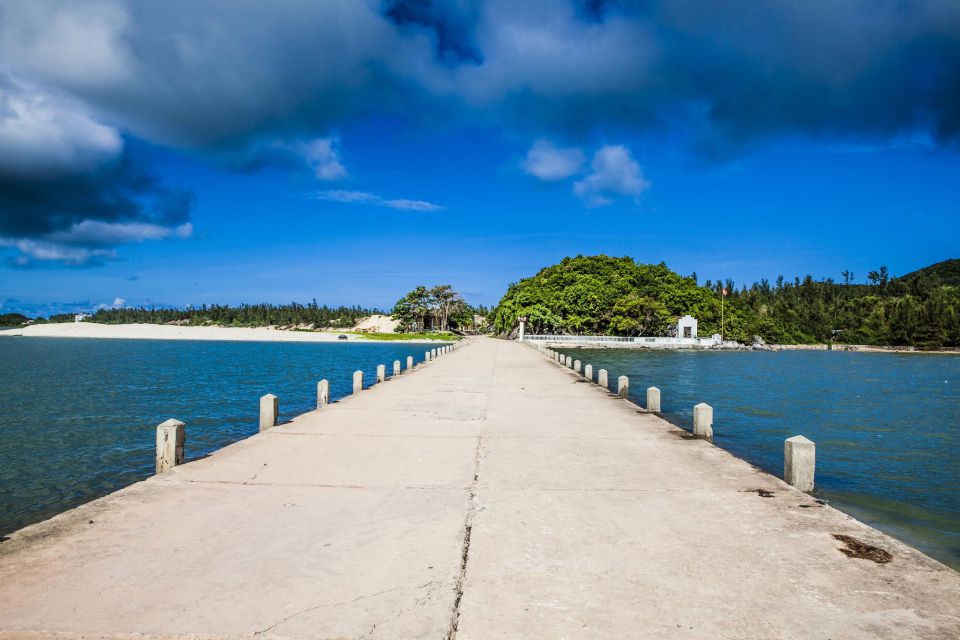 CONG DO ISLAND
Located in the Southeast of Halong Bay and away 25 km from the Bay Chay Wharf, Cong Do island is a beautiful island you need to visit. This island is acknowledged as a Wonder of the World due to its significant landscapes.
Cong Do island has many beautiful lakes and ponds and it is the home of many rare animals. You can see colorful coral reefs in the Southwest of Cong Do island. The bio-system of these coral reef stretches over 700m with lots of rare species of  corals and beautiful fishes. This island are going to be the Eco tourism spot in the future.
You can check these tours below if you are interested in Cong Do island:
DAU BE ISLAND
Situated at the Southeast of Halong Bay and away 28 km from Bai Chay Wharf, Dau Be island is a island with distinctive beauty. With the area of 22,863 m² and the highest peak is 139m, Dau Be island has the highest cliffs that covered the whole island from big waves.
Once you came here, you should visit Ba Ham Lake. This lake is super famous for its ancient look and beautiful landscape!
Climbing is the most interesting activity here because of its dangerous and challenging cliff edges!
So, Dau Be island is the last island for today list. How do you feel after reading this post? Leave a comment below and tell us what you think! If you like this kind of post, don't for get to share this post to your friends. To get the latest post from us, please follow our website TRULYVIETNAMTOUR.COM.
To get more interesting tours in Vietnam, check our website for more information!
Have a good day!
Social Share